When I look at painting my miniatures I look at it as I would a chore. I've spent all of my years in the hobby working at making it easier to paint my minis and to have them not look like a painted turd on a plastic base.
Since I jumped into Infinity and I was building Lab 2.0 I decided to be a better painter while keeping the main quality of time appreciation at the front. I picked up an air compressor, gun cleaning kit, a box fan with a furnace filter, a badger 360 with the Game Colour paint kit from Vallejo. Add that to my always growing collection of paints and various brushes I was set to get painting.
So I started to slowly figure out how to apply colour with the airbrush. I tried blending and layering colours. When Angel Giraldez published with help from Corvus Beli and Vallejo paints his book
Painting Miniature from A to Z, Master Class vol-1
I had to snag it. I wanted to be better and he's in my opinion a leader in the small world of miniature painting.
So this post is about talking about those who rule the brush. Those who's skill I will never duplicate. True artists who have built a community around making miniatures of various sizes look damn pretty.
See you all through the rabbit hole.
Meg Mapples
-
http://arcanepaintworks.blogspot.ca/
Meg Mapples is a former studio artist for Privateer Press. She's considered to be a master of teaching the 2BB (2 Brush Blending) technique that is a staple of the minis getting painted in-house at Privateer Press.
Her site is slick and awesome and she gets rave reviews on her painting classes. She also has a neat trick for
painting eyes
that I'm looking at trying out.
Magneto
painted by Meg Mapples
Marike Reimer
-
http://www.destroyerminis.com/
Marike Reimer is another brilliant lady whose style includes a similar method for
painting eyes
. Without trying her method I like Mapples method, but I'll try both out first.
I really like her ability to mix colour from light sources, it's always soft and looks damn slick. My favorite work of hers is her ability to paint sheer and semi sheer material.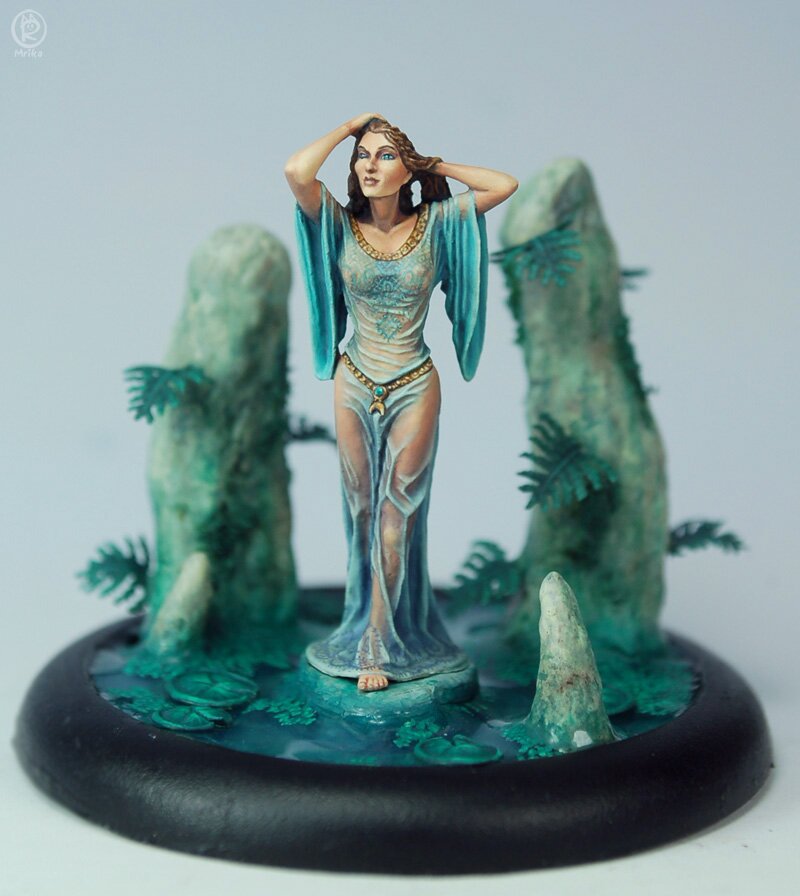 Undine
painted by Marike Reimer
Capt Spud
–
http://www.captainspud.com/
Captain Spud is a guy who's more of a sculptor and hobby handyman rather than a dedicated painter. He's made Hacking Apps, Objective Cards, and terrain for Infinity. My favorite work and my main justification for him being here is his sculpting ability. He's got some serious mojo going here and his conversions look slick. For example check
these guys out.
Kringlerackle Workshop Minions
sculpted and painted by Captain Spud
James Wappel
-
http://wappellious.blogspot.ca/
Mr. Wappel is a great painter. I think he works for Wild West Exodus as a studio painter because he seems to be painting minis and those paint jobs look like the final jobs for the company. He does some great work with gritty looking minis, light sources – making it all seamless rather than tacked on.
Warrior Nation
painted by James Wappel
Tom Schadle
-
http://tomschadleminiatures.blogspot.ca/
One of the two voices on MayaCast, Tom Schadle's work is one of my big inspirations. His use of soft tones and the non-metallic metal techniques are so well done it's creepy. It looks like Tom's largest influence is Angel Giraldez, not a bad thing at all, and it shows in his work. Tom also throws me off once and while with his creative use of uniformity when he does armies and the pops of bright contrasting colours.
Japanese Sectorial Army
painted by Tom Schadle
So that's it – a slew of great artist with many more to find online.
Check them out on their sites and enjoy. They may inspire you like they inspire me to be better at the painting aspect of this hobby of ours.
- Cheers
Dozer